Marinade

- the juice of 1 lemon (about a ¼ cup)

- about a handful of fresh oregano (finely chopped) - can use dried if fresh not available, but fresh is best.

- 5 cloves of garlic - minced finely

- 1 tsp of salt & ½ tsp of black pepper

- about ¼ cup of olive oil



Marinate
chicken (or pork tenderloin)
for AT LEAST 30 minutes. I like to do in the morning so it's really flavorful by dinnertime. Just put ingredients in a ziplock - smoosh to combine & toss in your boneless skinless
chicken
breasts. This should do about 4-6 pieces. Toss on the grill. About 5-7 minutes on each side on medium heat.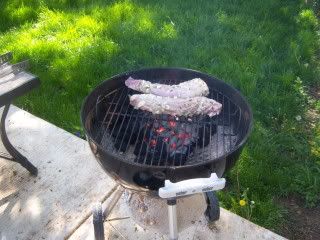 Tzatiki Sauce

- ½ cucumber - deseeded - peeled, grated, and squeezed as dry as possible

-1cup of plain
Greek
yogurt (If you can't find
Greek
yogurt, use regular plain yogurt & strain thru cheesecloth for an hour or so - you just want it thick. I think even sour cream may substitute OK)

- 2 tbsp of lemon juice

- ½ tsp of salt

- 1 clove of garlic minced (I like a couple, personally)




Combine all ingredients – I think it's best to do it a day ahead. The flavors meld & it's so much better after a day.



Salad

- the other ½ cucumber, peeled & diced (avocado is also a delicious substitute, just don't use the feta or olives)

- 4 ripe tomatoes, seeded & chopped

- ¼ cup red onion, thinly sliced

-½ cup of crumbled feta OR ¼ cup of Kalamata olives (sliced)

- Olive oil, lemon juice



Combine all ingredients, drizzle with a bit of extra virgin olive oil & a squeeze of lemon or drizzle of balsamic vinegar - finish with a bit of black pepper.




You can eat this meal like a salad & an entrée - OR - dice
chicken
, put on toasted pita, top with salad & tzatiki sauce. Such a good sandwich.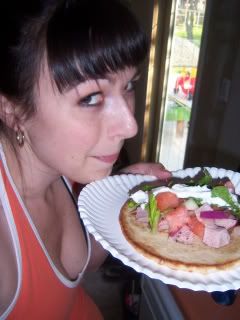 Balsamic Strawberries

- 1 lb of ripe strawberries, washed & hulled

- 2 tbsp of Splenda Sugar Equivelant (or Sugar)

- 2 tbsp good quality balsamic vinegar

A day ahead, just toss the berries in the sugar & balsamic well. Let them "do their thing" - eat on their own or serve over ice cream or cake. I promise they won't taste like vinegar! They just taste like the best strawberries ever. No one will know what you did!!!
I make the berries about once or twice a week. Jake scarfs them down. Loves them. I can't say I can keep out of the bowl either. Trust me. They're fantastic.
Just a little reminder: if you scroll up to the top of your page, you can click Share to share the recipe on Facebook with your friends so we can ALL save money & eat well.